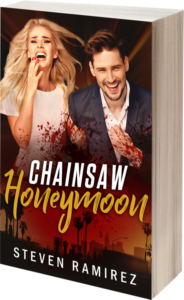 I am so excited—what a journey! The Kindle edition of Chainsaw Honeymoon is available now exclusively at Amazon, and for a limited time, I am offering it for $1.99 US. Click here to order your copy. The print edition will be available in a few days.
Take a look at what IndieReader had to say about my latest novel:
"In this tale of a daughter literally trying to scare her estranged parents back together, Steven Ramirez combines the horror/slasher film and literature genres with the light comedy/romance of a Cary Grant film. Both genres present challenges on their own. What is amazing about Chainsaw Honeymoon is how Ramirez surmounts both of these demands. Added to these accomplishments is his ability to present the viewpoint of a fourteen-year-old girl. In the form of Ruby, Ramirez imparts to readers all the confusion brought about by puberty; the emotional neediness camouflaged by sarcasm; the obsession and continuing frustration with boys; and the bonds female teenagers forge with one another.†— IndieReader
Stop talking so I can click the link!
Book Description
Life, love, and a few dead bodies. Just another day in LA.
One year ago, Alan and Stacey Navarro underwent a painful separation, leaving their daughter, Ruby, to live with her mom and an over-caffeinated Shih Tzu named Ed Wood. People split up all the time, and most kids might get over it, providing they can still Snapchat. Not Ruby. A bright, funny fourteen-year-old who loves shoes and horror movies, she is on an insane mission to get her parents back together. But she can't do it alone. She needs her two best friends, her dog, an arrogant filmmaker, a bizarre collection of actors, and a chainsaw-wielding movie killer. What could possibly go wrong?
Chainsaw Honeymoon is "hysterical fiction†and like nothing you've ever read. There's romance, drama, and a creepy talking doll called Mr. Shivers. Cutting a breakneck, jagged swath across present-day Los Angeles, this book hurls flaming balls of movies, music, horror, and comedy—like some kind of possessed pitching machine. Is this real life? Better ask Ruby.
For fans of John Green, Robyn Schneider, and Ferris Bueller.