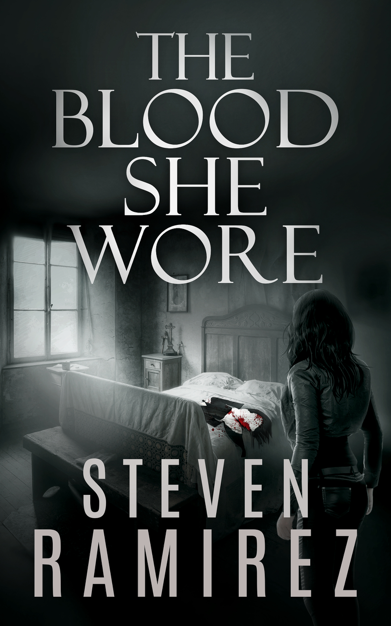 Exciting news! The Blood She Wore, Book Three in the Sarah Greene Mysteries series is scheduled for publication on November 2, 2020. In the meantime, check out the cover. I've also included a book excerpt.
If you've been reading the series, you know that Dos Santos hasn't been faring too well lately. Sarah and Carter are doing their best to combat the insidious evil that's consuming the town. But as soon as they put one bad thing to rest, more pop up. Don't worry. The good guys still have some tricks up their sleeves.
You can find the book description and excerpt below. Peace and love.
Book Description
The discovery of a cursed object drives Sarah Greene to uncover the secret of why the town's founder, John Dos Santos, turned to the demonic. Meanwhile, the streets are plagued by a wave of senseless violence at the hands of strangers. And these ritualistic killings point to The Darkness. After everything that's happened, Sarah finally knows her destiny. She must use her psychic ability to stop the evil from spreading. As she gets closer to the truth, she discovers a connection to John that centers around 1925, the year the founder died. More unnerving is the vision of his housekeeper's ghost, covered in blood.
Book Excerpt
Sarah Greene's eyes fluttered open, and she realized she was dressed, lying on top of the duvet. The dream had been a bad one. With a heaviness in her chest, she turned, hoping to find Joe. But all she saw was Gary, curled up in a ball next to her. What time was it? She reached over and picked up her Apple watch from the nightstand. Seven-thirty.
"Alyssa,†she said, groaning. "I need you.â€
Clumsily pressing the wrinkles from her clothes, she wandered into the kitchen, where she found her ex-husband. He was sitting at the counter, drinking coffee and looking at his phone. When he heard her come in, Joe looked up.
"Hey,†he said.
"Morning.â€
Sarah grabbed a cup and poured coffee for herself. She took a seat next to him, unsure what to do or say. After he had told her about the accident with the girl all those years ago, he seemed to shut down. It was as if everything in his life had come undone, and he was finished. She remembered trying to kiss him. He'd withdrawn so much into himself, she was unable to get through. And so, feeling lonesome, she fell asleep next to him.
She reached out her hands and took his. "Do you want to talk about it?â€
"No.†He stood and rinsed out his cup in the sink. "I have to meet Manny. I'll see you tonight.â€
"Joe?†He was about to leave the room, then stopped. "You're a good man—a good human being. And I love you.â€
"I'll see you,†he said.
Sarah listened as the front door opened and closed. Gary trotted in and sat in front of her, his eyes squishy. She picked him up and set him on her lap. He began to purr. She wished she could see her therapist, but the woman was out of the country on vacation.
Drinking coffee, Sarah thought about their weekend away. It had been wonderful. Or had it? She tried recalling how Joe had acted in Half Moon Bay. Honestly, she'd had no inkling that something this bad was bothering him. Was he acting? Had their trip been his way of telling her goodbye? Stop being dramatic. He's hurting, that's all. Her thoughts drifted back to the nightmare.
Sarah stood before a huge, rambling mansion surrounded by pine trees. A terrible place filled with rage, it glowed a ghastly yellow in the moonlight. She had never seen this house before and wondered if it really existed.
As she stood there in the darkness, a girl screamed. Time sped up.
An invisible force pulled Sarah through the walls and into the house. She found herself at the base of a staircase.
An imposing woman stood on the landing. She wore a black beaded flapper gown. And in her hair, there was a silver filigree comb. Dismissively, she looked past Sarah at someone else and laughed.
"You know better than to come up here,†she said.
Somewhere, the girl screamed again. Bored, the woman glanced over her shoulder.
She began descending the stairs. As she did, she kicked something. It was a wooden spool of bright red thread. Tumbling down, it unraveled and eventually stopped at Sarah's feet.
When she had reached the bottom of the stairs, the woman stood still, looking at Sarah this time. Sarah felt her neck, searching for her St. Michael medal. But it was gone.
"God won't help you,†the woman said.
Her voice cut through Sarah's brain like a hacksaw. Then, the woman's eyes turned a liquid black.
Though disturbing, the nightmare hadn't turned Sarah into a gibbering mess. She had almost died at Devil's Bluff, and so much had happened since. But she had survived. What she felt now wasn't fear—it was anger. Fury at the rampant evil that had put so many people in danger and had led to an innocent young woman's death.
"God won't help me?†she said, her tone mocking and defiant. "Just watch.â€
As if in response, something outside made a loud thud, alerting the cat. He maowed nervously as Sarah set him on the floor. She went to the front door and listened. Then, she squinted through the peephole. The street was empty except for her dark green trash cans on the sidewalk.
Across the way, her neighbor, a heavyset old woman wearing a faded housecoat, kicked a plastic recycling box toward the curb. Sarah opened the door. The first thing she saw was the bright red smear across the door. She covered her mouth.
A dead, gray animal, mutilated beyond recognition, lay on her mat. A cat? The eyes and tongue had been cut out, and it was gutted. The blood covering its fur looked fresh. She gazed toward the street. The old woman was nowhere in sight.
She felt something brush up against her leg. Gary. Shooing him back, she closed the door. She stood there with her arms crossed and thought of calling Joe. No, this was something she needed to deal with.
"So, this is how we're playing?†she said.
Gathering cleaning supplies, a garbage bag, and a hose, Sarah made a mental note to replace the ruined welcome mat.
* * *
Carter Wittgenstein was late. She pulled her white MINI Cooper into the lot behind The Cracked Pot and parked next to the catering van. One of the other servers—Sherrie—had texted her last minute, asking if Carter could cover her breakfast shift; her kid was sick.
After the dream she'd had the previous night, the last thing the girl wanted was to serve food to a bunch of chatty customers. But Sherrie had always been nice to her. The single mother was the one who had trained Carter when she first started. So, she agreed.
Hurrying in through the back, she realized she wouldn't have time to fix her makeup. The line cooks grinned when they saw her pass by. One of them said something to the others.
"Escapó de Isla de las Muñecas.â€
Ignoring their laughter, she continued into the bathroom to wash her hands. Taking a quick look in the mirror, she brushed back her short black hair, pasted on a plastic smile, and returned to the kitchen. She marched up to the wise-cracking line cook and pointed a finger at him.
"If you're not careful, Hector, I'll send you to the Island of the Dolls. And by the way, they hate short men.â€
Satisfied, she walked away. The line cook looked sheepishly at the others while they jeered him.
Carter entered the restaurant area. Another server, loaded down with plates, nodded toward the counter where Tim Whatley sat, brooding. The last time she had seen him, he had a moustache. Now, he was clean shaven.
Poor Tim. Carter knew how he felt, having witnessed something unexplainable. All of it, in fact, had made no sense. Not to a cop who had been trained to look at facts and evidence. Though he hadn't told her what he'd seen that night at the women's shelter, she was certain it was bad.
"Have you decided?†she said.
"No. I still don't know if what I saw was real.â€
Carter stifled a laugh. "I mean, about breakfast.â€
"Oh. Um, bacon and eggs over easy.â€
"Toast?â€
"I guess.â€
She felt sorry for him. Tim was around her age. When she had first met him, he seemed confident. And happy. Now, he was sullen and resistant to making eye contact. She hoped he wasn't suffering from depression—a condition she was all too familiar with.
"I'll make sure you get extra bacon,†she said, and walked away to put in his order.
He thought again about that awful night. Looking up at the ceiling and finding Ana Robles on her hands and knees, naked, her head twisted all the way around so she could see him better. And her tongue, impossibly long and snake-like. Take me now, cop, she had said.
In a few minutes, Carter returned with Tim's food, warning him about the hot plate.
"Can I ask you a question?†He leaned forward and spoke softly. "These things I saw. Is this what it's like for you and Sarah?â€
Carter didn't know what to say. For most of her life, she had been keenly aware of the paranormal. At some point, she'd accepted that this was how she and others like her—and Sarah—saw the world. It was hard for her to imagine what it felt like not seeing the things that were always lurking in the shadows and in dark dreams.
The leering face of the demoniac she had killed materialized in front of her eyes, reminding her of her nightmare. To dispel it, she looked toward the windows and focused on the normal traffic outside. When her eyes met Tim's again, she saw that he was desperate for an answer.
"It's different for us,†she said. "We see things all the time. What's weird is, now other people are starting to see them.â€
"Is something bad happening in Dos Santos?â€
She wanted to tell him everything. About The Darkness and the Guardian sworn to defeat it. Something was coming—something final. And she was scared. But she couldn't risk it. In his current state, the truth could send the young cop over the edge.
"I don't know,†she said. "I wish Harlan was around.†Shit, did I say that out loud?
"What do you mean?â€
"It's just that he's been really nice to me and… Forget it. I'm being stupid.â€
Behind her, the call bell rang. "Sorry, I need to get back to work.â€
He grabbed her hand. "Is it true you were the one who killed that creepy dude? It was self-defense, right?â€
"I…†Her chest ached. "I didn't do anything.â€
She left him and, hurrying through the kitchen, ran out the back door and stood in the parking lot. It was hard to catch her breath. So many times, she'd found herself out here, smoking.
Desperate for a cigarette, she remembered when Sarah had followed her, a stranger asking about The Darkness. And Carter pretending she didn't know what the loopy lady was talking about. The dream came back to her full on.
Carter stood in the street again at night. The demoniac with the yellow-spiked hair laughed in that irritating high voice.
She grabbed the back of his neck and pulled him close. His skin felt damp and greasy.
Filled with a rage she had no idea was in her, she pressed the St. Benedict medal to his forehead until his head burst into a cold blue fire. She watched as he fell to his knees on the wet asphalt.
At that moment, she told herself she destroyed him only because she knew he would've killed Sarah and her.
Taking a calming breath, Carter knew what she would do now. Like the other horrible thing that happened when she was thirteen, she would push the events of that night way down deep. And she would lock them up there forever—where they could scream all they wanted. She was in control. And she would get on with her life.