Subscribe to the newsletter and get a free book. Sign Me Up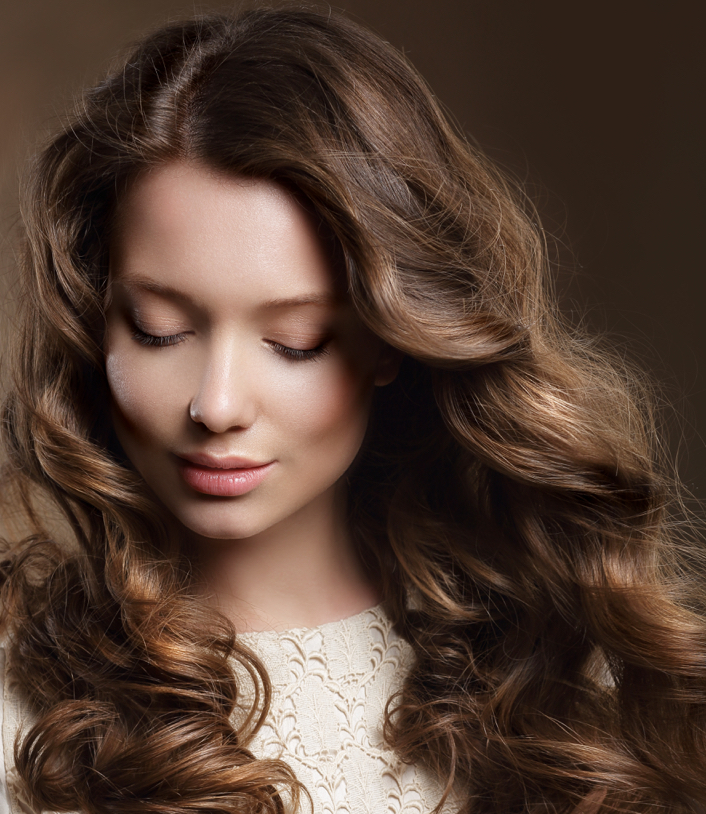 Introducing Sarah Greene, the star of a new supernatural suspense series from Steven Ramirez called Sarah Greene Mysteries.
Born Sarah Cruz, she is thirty-three and a graduate of UC Santa Barbara. She sells real estate and flips houses with her ex-husband and business partner, Joe Greene, in Dos Santos, California. She has her dad, Eddie; a sister, Rachel; and a niece, Katy. She also has a cat named Gary and drives a fully restored 1963 Ford Galaxie 500 XL.
Sarah Greene Mysteries Book 1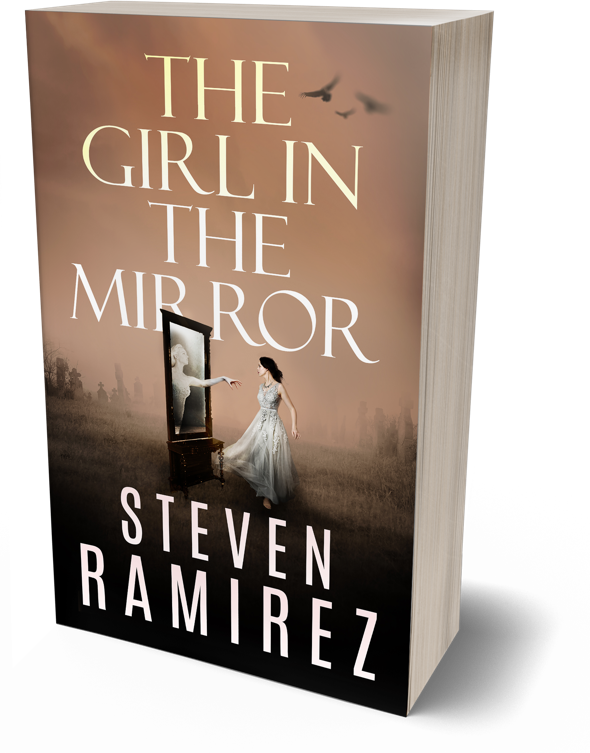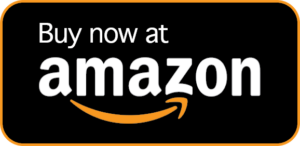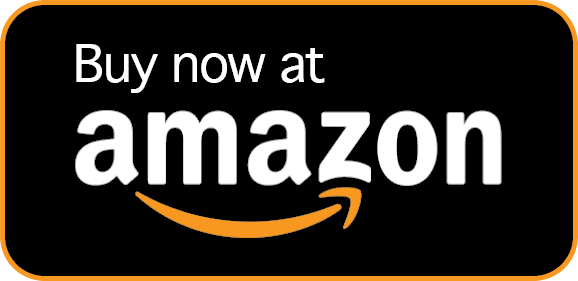 The 2019 Best Indie Book Award Winner for Paranormal Fiction
Winner of the Horror Category in the 2020 Next Generation Indie Book Awards
The 32nd Annual Benjamin Franklin Award Silver Winner for Horror Fiction
"Author Steven Ramirez weaves a gripping mystery at the center of the novel, and the unpredictable twists keep the pages turning well into the last act." —IndieReader
"The Girl in the Mirror is a well-paced paranormal mystery that delivers chills, laughs, and romance all in one go, and gives the reader a heroine to root for." —The BookLife Prize
Sarah Greene is a successful realtor who sees ghosts–and sometimes wishes she didn't. While renovating an old house with her ex-husband, she finds a mirror haunted by a teenager's tortured spirit. As she sets out to discover the victim's identity, Sarah stumbles onto something chilling. The people who built the house had a demon-worshipping son, Peter. And Sarah comes to believe he murdered the girl. But there's more. An insidious evil is infesting the town of Dos Santos. Could this dark force be tied to Peter Moody?
Sarah Greene Mysteries Book 2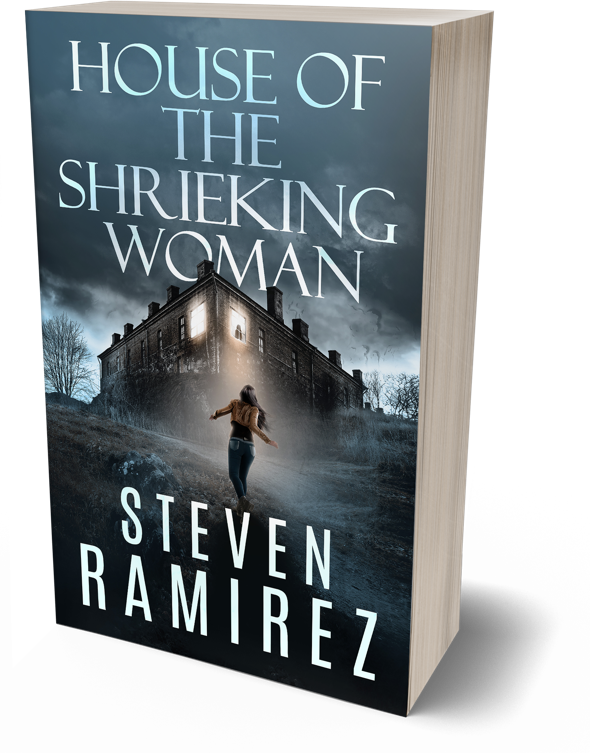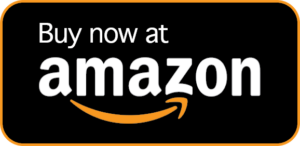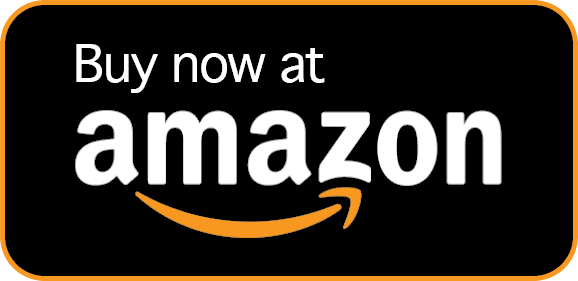 The 2020 New York City Big Book Award Winner for Paranormal Thriller Fiction
"House of the Shrieking Woman is a solid psychological drama that steps away from the norm and carries a real small-town vibe. Claustrophobic and surreal, it spins from creepy to thoughtful with a stark and memorable narrative." —IndieReader
"Pitting her nascent investigative skills against a sinister power that thrives in places of pain and suffering, the main character makes this quick thriller hard to put down. Ramirez is a master of building tension when the story most calls for it, making House of the Shrieking Woman a thrillingly dark slice of suspense." —Self-Publishing Review
Sarah Greene almost lost her life when she discovered the truth behind a house's dark, violent history. Determined to get past her trauma, she agrees to investigate a series of disturbing accidents at a women's shelter. They begin with the arrival of a young Guatemalan woman, a troubled victim of domestic abuse. The horrifying events at the shelter point to demonic possession. But what frightens Sarah more is the insidious evil infesting Dos Santos–a powerful presence known as The Darkness. It is faceless. It is everywhere. And it knows who she is.
Sarah Greene Mysteries Book 3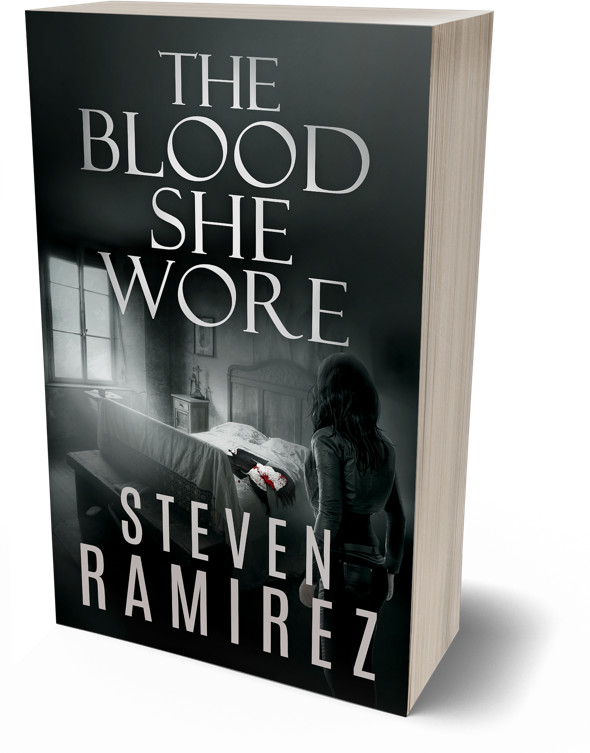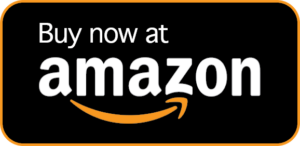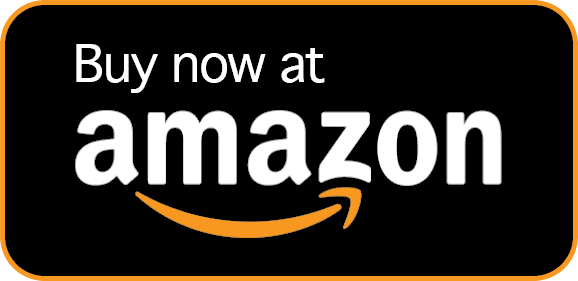 "Steven Ramirez has created a well-imagined fictional universe and populated it with characters with real warmth and humor in The Blood She Wore, a well-constructed supernatural mystery that will entertain fans of the genre." —IndieReader
"In the chilling novel The Blood She Wore, strong women and strange spirits dominate." —Forward Clarion Reviews
The discovery of a cursed object drives Sarah Greene to uncover the secret of why the town's founder, John Dos Santos, turned to the demonic. Meanwhile, the streets are plagued by a wave of senseless violence at the hands of strangers. And these ritualistic killings point to The Darkness. After everything that's happened, Sarah finally knows her destiny. She must use her psychic ability to stop the evil from spreading. As she gets closer to the truth, she discovers a connection to John that centers around 1925, the year the founder died. More unnerving is the vision of his housekeeper's ghost, covered in blood.