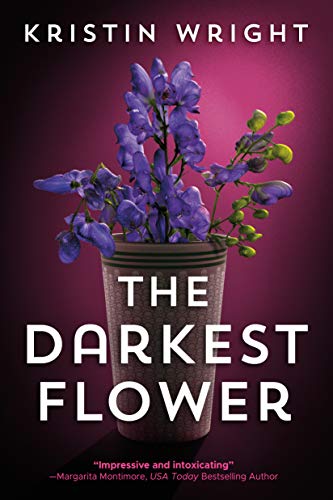 Reading The Darkest Flower is the most fun I've had in a long time without getting arrested. Allison Barton has a lot on her plate. Divorced, she does her best to be a good mom, all the while putting up with the narcissistic, condescending head of a successful law firm as he takes every opportunity to criticize her work. He advises her how to dress and tosses out the occasional back-handed compliment. But Allison tolerates the abuse because she dreams of a life outside the firm. And the price of her wish?
Kira Grant.
A woman of beauty and privilege, Kira can kill with a word. Her impromptu insults and pointed observations would bring Cruella de Vil to tears. But just because she's intolerable and insensitive, does that make her a murderer? We shall see. Whatever the truth, Allison must defend her client in a high-profile case that will set her free. But in doing so, she questions her own motives and, indeed, her very profession.
For me, the best thing about reading this novel was discovering the internal thoughts women have about men, authority figures—and other women. Listening in on Kira's ravings is like being escorted through hell by Virgil. You might make it back in one piece, but you'll be left with burn marks.
If you enjoy legal thrillers with shifting loyalties, dark passageways, and razor-sharp humor, I recommend grabbing this outstanding book.
Book Description
You'll never believe the terrible things being said about the perfect president of the PTA.
Attempted murder? Inexplicable accident? Either way, a PTA mom struggled for her life in an elementary school cafeteria, poisoned by a wolfsbane-laced smoothie at the fifth-grade graduation party. Now all eyes are on the accused, the victim, and a woman hired to look deeper.
Ambitious defense attorney and single mother Allison Barton is anxious to escape the shadow of the low-down dog of a marquee partner carrying their renowned Virginia law firm. A win for her high-profile new client will give Allison the career she deserves. And PTA president Kira Grant certainly appears innocent—except for the toxic bloom in her backyard and perhaps a bit of a malicious streak. But no one said the innocent had to be likable—or entirely honest. Besides, with an image as carefully cultivated as her garden, Kira would be insane to risk everything on something as outrageous as the attempted murder of one of her closest friends.
What about those in Kira's orbit, a sunny suburb of moms behaving badly? What do they really know about Kira? What does Kira know about them? For Allison, the answers are getting darker every day.
Where to Buy
Amazon
Barnes & Noble
Apple Books
Google Play
More Reviews
Did you enjoy this review? Check out my other reviews here. And don't forget to follow me at BookBub.