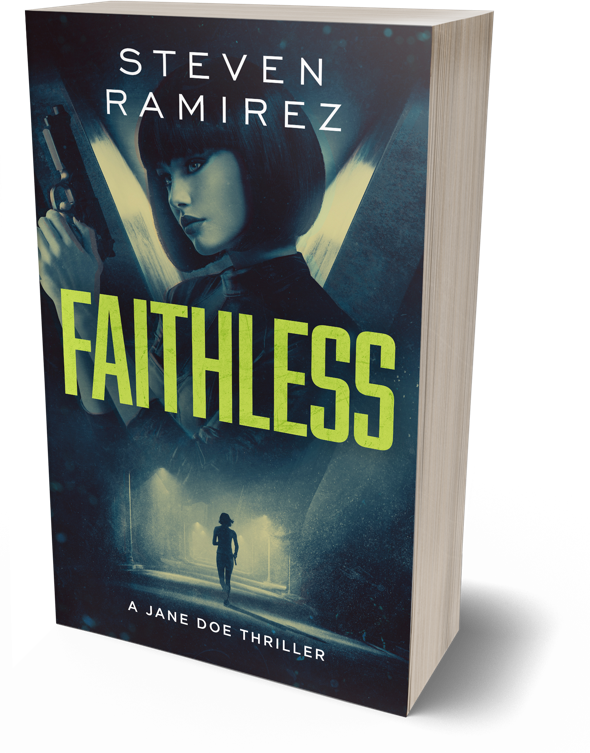 Fellow lovers of thrillers and all things badass, behold. This is Faithless, Book 1 of my new thriller series, Jane Doe Cycle. I'm really excited about this book. For some time now, I've wanted to write a series featuring a female antihero. And then it came to me. Why not continue the story I began with Tell Me When I'm Dead?
Instead of zombies, though, Baseborn Identity Research has created a whole new kind of crazy—highly trained operatives who are hard to kill. Literally. You'll find an excerpt below. And if you want to read Chapter One, all you have to do is sign up for the newsletter. Learn More
Synopsis
In a secret lab, a woman awakens from a bizarre dream. She's alone, immersed in a tank with wires and tubes. The other test subjects are dead—drowned in black water. Her only memory is dying from her wounds during a night raid in Afghanistan. Something brought her back, uninjured. Men in gray suits try to end Jane. Each time they shoot her, she heals. Leaving a trail of bodies, she runs. Now, she must discover who these men are and why they want her dead. But a debilitating fever rages inside Jane. In the lab, she was on an experimental drug. And without it, she will die.
Book Title: Faithless: A Jane Doe Thriller (Jane Doe Cycle Book 1)
Author: Steven Ramirez
Editor: Shannon A. Thompson
Published by: Glass Highway
Publication Date: 5/16/2021
Category: Fiction, Thriller
Retail eBook Price: 4.99 USD
Retail Paperback Price: 18.95 USD
Paperback ISBN: 978-1-949108-12-5
Page Count: 384
Library of Congress Control Number: 2021903806
Book Excerpt
When I opened my eyes, I was in water under low lights. I remembered gunfire and men shouting. This wasn't Afghanistan. I didn't know where I was. After the bullet bursts, there was an explosion. Sounded like a grenade. All I knew for sure was, I didn't know shit.
I lay naked in a tank filled with wires and tubes attached to my body. My skin has always been pale. Now, it looked bloodless in the bluish glow of the LED lights lining the top of the unit. I tried moving. No pain to speak of, but I was weak. I tried calling out. What came back was a feeble croak.
It took all my strength to get into a sitting position. I wished I hadn't. Hundreds of coffin-like tanks identical to mine surrounded me. Each gave off the same eerie blue glow. Besides me, nothing else moved.
I ripped away everything that was in me or on me, and climbed out. My legs were wobbly, so I stretched. I half expected to see my brother, Bo, pissed off. Ordering me to get dressed. Dripping wet, I padded toward a nearby tank. A man in his early twenties lay motionless, his eyes closed.
Blevins.
I could tell it was him by his short blond hair. He wasn't breathing. Though he'd been shot many times in the Afghan village, I didn't see a single wound. Unlike my tank, the water in his was black.
Feeling stronger, I returned to my container and dipped my hand. Something flashed on the side of the unit. Kneeling, I found a lighted panel, where a message repeated. Malfunction. Press for more information.
The room was deathly quiet. Shivering, I wandered up and down the rows of tanks. All contained naked bodies—male and female. Like Blevins, they marinated in black water. Some I recognized, most I didn't. And Tyler—where was he?
None of the other containers flashed red. Was I the only one alive? My mind drifted back to the firefight in the White Mountains. I made a careful examination of the places I'd been shot. Like Blevins, no bullet wounds—not even a scratch. No way I'd dreamt the whole thing. Yet now, my hair was long and fell over my shoulders. Way past regulation.
I didn't know what danger lay outside. One thing for sure, I needed clothes. And a weapon. I padded to the door and peered into the darkened hallway. Nothing but dense shadows. The silence put me on edge.
Keeping to the wall, I made my way along the corridor. Something lay on the ground up ahead. It was a man in a guard uniform. I checked to see if he was alive. Negative. Someone had slit his throat in one clean stroke. A pool of dark, coagulated blood formed a halo around his head. I took his clothes and gun.
Gathering up my hair, I tucked it under the cap. Everything was baggy on me. The shoes were too big and the pants too short. The shirt was crusted with blood. Also, this guy had some major BO. At least I had a weapon.
Up ahead, I saw a lighted enclosure with elevators inside. I started toward it. Behind me, a rhythmic metallic sound broke through the silence. It was like nothing I'd ever heard before. Definitely not a gun. Raising my weapon, I pivoted. A blond man stood there, tapping a strange-looking knife against a metal post. He was shirtless and barefoot. But it was the eyes—they glowed purple. What in the eff…?
When he came toward me, I fired three times. Every round hit him in the midsection. Stopping, he looked at himself. Stuck his finger into one of the holes. He licked off the blood and grinned. Before I could fire at the psycho again, someone yanked me from behind into the shadows. My strength returning, I pulled free. A frightened guard put a finger to his lips. He took my hand and led me down a narrow corridor. Away from the freak with the purple eyes.
END OF EXCERPT