It's almost Halloween, and I am celebrating by offering the Kindle version of my new horror collection, Come As You Are, for free October 27th through the 31st. I hope you'll take advantage. The title work is a novella about a bullied middle school kid looking to take revenge. Only, the method he's chosen puts himself and everyone around him in horrible danger. Here is what Readers' Favorite had to say:
Ivan's innocent and unwitting flirtation with the demonic is first-rate supernatural horror. Ramirez's characters are beautifully defined, particularly Ivan and Hershey, the school janitor, who turns out to be much more than that. His plot is beautifully scripted and the suspense and supernatural dread emanating throughout this story make it impossible to put down until the last page is read. Come As You Are: A Short Novel and Nine Stories is highly recommended.Â
Get your free copy now—and Happy Halloween!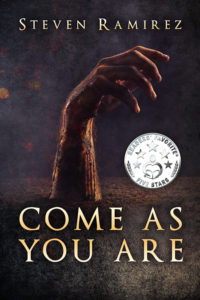 Synopsis
Some things are better left alone.
Ivan Stein isn't sure he can survive seventh grade, let alone middle school. Living in a town known for its poverty and violence, he is regularly bullied along with his best friend, Ollie. But fortunes can change. One day, Ivan finds an old notebook in an abandoned locker at school. Despite a stark warning, he takes the book and unleashes powerful magic he can use to punish his enemies. But demonic forces control the book's pages—a terrifying evil that will inflict suffering on the good as well as the bad and take his soul as payment.
Come As You Are is supernatural horror reimagined as Young Adult fiction. But don't be fooled. Its violence will disturb you and its depiction of people living in a gloomy, desolate town without hope will make you cry. Pray that Ivan and his family can survive this dark, perilous journey.
Also in this collection:
"Nailed Itâ€
"Brown the Recluseâ€
"I've Been Betterâ€
"A Bone in the Throatâ€
"Regino Singsâ€
"A Proper Revenge Takes Timeâ€
"Something to Holdâ€
"The Widow and Her Magicianâ€
"Walkerâ€