Wow! Take a look at this review of my new collection
Come As You Are
, which is available in eBook and print at Amazon. Oh, and don't forget about the Goodreads book giveaway, which ends on September 20, 2017. Details here.
And finally, for those of you who haven't taken the opportunity, you can download a free copy of Book One of my horror thriller trilogy, Tell Me When I'm Dead. Just visit my homepage for details.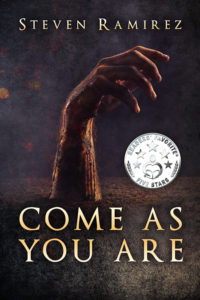 A Collection of Macabre Stories: Come As You Are by Steven Ramirez
by MK French
"Come As You Are†is the title novella in this collection of macabre stories. Ivan Stein and his best friend Ollie are bullied in school and often run off the skate park by older kids. When Ivan finds a notebook in an abandoned locker that seems to be the key to power, he takes it despite his misgivings. Unfortunately, the power is demonic in nature and doesn't discriminate who falls in its path. It's understandable that Ivan would grab hold of any hope to get past the bullies and survive seventh grade, even if it's otherworldly. Knowing others' secrets at first seems rather innocent, but completing the list in the notebook takes on a more dangerous turn, and Ivan's soul hangs in the balance. The end of the story was a bit of a stretch, and not one I would have predicted when starting the novella, but definitely was vividly done.
To read the rest of this review, please visit Girl Who Reads.