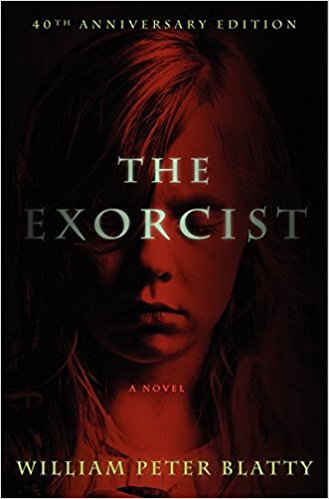 So much has been written about this book and subsequent movie. As the description says, The Exorcist is a part of our culture, not to mention it's spawned hundreds—maybe even thousands—of imitations. I first read the novel while in school, then went to see the terrifying William Friedkin movie by myself. Like so many others at the time, I had nightmares for a week. Imagine having grown up with stories featuring vampires, zombies, and mutants. Then, this powerhouse of a tale comes along about a non-religious young girl who unwittingly invites a demon into her house courtesy of a Ouija board. Now, today that may seem tame, given that we've become inured to evil courtesy of television series like Supernatural. But back in the day, this was Grade-A horror, my friend.
What I loved most about the book when I first read it—and what I cherish now—is how real the characters seem. The author, William Peter Blatty, was a graduate of Georgetown University and knew well the world of Jesuit priests. For my money, he did a marvelous job of delving into their humor, their disappointments, and their loneliness. And when he takes a tortured soul like Damien Karras, a priest who is also a brilliant psychologist, and puts him in a room with Satan, well… Let's just say things get really interesting.
One more thing. In rereading the novel and recalling Lee J. Cobb's excellent screen portrayal of Kinderman, I was happily reminded that the author had quite a sense of humor. To me, his dogged cop is Columbo if he'd been Jewish. Seeing this weary flat-foot spar with the dour priest is nothing short of magical.
As bad as things get for the girl, Regan, and her mother, Chris, Blatty gives us hope that God will prevail in the end. Without that, this story would have been nihilistic and pointless. An exercise in demonic torture porn. So, whether you are a person of faith or not, if you enjoy horror that is smart, funny, and mind-numbingly scary, I heartily recommend this book. And if, like me, you're Catholic, be sure to keep a Rosary on your nightstand.
You can find this review at Goodreads.
Book Description
The Exorcist changed popular culture forever. Now, William Peter Blatty's groundbreaking story of faith and supernatural suspense—the runaway #1 bestseller that started it all—is reincarnated in this spectacular newly polished and rewritten 40th Anniversary Edition of the novel that burst through society's seven seals and paved the way for the entire genre that followed it: the unforgettable The Exorcist.
Where to Buy
Amazon US
Amazon UK
Amazon CA
Amazon AU
Amazon IN

More Reviews
Did you enjoy this review? Check out my other reviews here.