I read the previous books in this series, and for me, In a Dark Place is the most disturbing by far. By all accounts, the Snedeker family did nothing purposeful to invite the evil that came into their lives and almost destroyed them. It was there lurking in that funeral home long before they showed up, waiting for a chance to assault the living.
In past books, Ed Warren talked about the three stages of demonic activity: infestation, oppression, and possession. Or did that come from 'The Conjuring'? Now, we find that there are actually five stages: encroachment, or permission, infestation, oppression, possession, and death. Happy endings are never guaranteed, I guess—even after an exorcism.
Although the book makes it clear that no one in that family was trying to invite anything in by way of Ouija boards or Tarot cards, Stephen, the teenage son, was very susceptible to suggestion due to his illness and eventually agreed to let the demon "show him things.†So, in essence, he granted permission. From there, everything proceeded as expected, except that what the demon did to individual family members is both chilling and repugnant—especially for the women. And what made things worse was the fact that both parents continued to deny what was happening.
Several months ago, I saw the film 'The Haunting in Connecticut,' which is loosely based on the book. In that story, the boy—now named Kyle—is a hero who frees tortured souls. No such gloppy Hollywood ending happened to the Snedekers. I recommend reading In a Dark Place to anyone interested in better understanding the demonic. Then watch the movie as pure entertainment.
You can find this review at Amazon US.
Book Description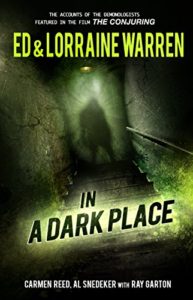 The story of the most terrifying case of demonic possession in the United States. It became the basis for the hit film The Haunting in Connecticut starring Virginia Madsen.
Shortly after moving into their new home, the Snedeker family is assaulted by a sinister presence that preys one-by-one on their family. Exhausting all other resources, they call up the world-renowned demonologists Ed and Lorraine Warren—who have never encountered a case as frightening as this…
No one had warned the Snedekers their new house used to be an old funeral home. Their battle with an inexplicable and savage phenomena had only just begun. What started as a simple "poltergeist†escalated into a full-scale war, an average American family battling the deepest, darkest forces of evil—a war this family could not afford to lose.
Books by Ed & Lorraine Warren also include Graveyard, Ghost Hunters, The Haunted, Werewolf, and Satan's Harvest.
Where to Buy
Amazon US
Amazon UK
Amazon CA
More Reviews
Did you enjoy this review? Check out my other Amazon reviews here.