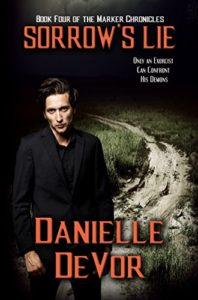 Well, it seems Jimmy is hitting his stride at last. He's gotten himself together enough to actually be in a place where he can contemplate married life with his sweetheart, Tabby. The ghosts in his charge are more or less intact (wait, can ghosts be intact?). And he might actually be just a little…happy.
But of course, with Danielle DeVor, you know this rainbow is doomed to turn gray—even black. There's always some new evil lurking just around the corner that demands Jimmy's attention. And this time, it's baaaaaad. So much for honeymooning in the Poconos.
I am a huge fan of this series, and so far, this is my favorite. The characters are well developed and familiar, and the terror is worse than ever. If you like dark fiction with this author's trademark humor, then I suggest you pick up Sorrow's Lie. Just make sure the doors and windows are locked and warded.
You can find this review at Amazon US.
Book Description
Only an Exorcist Can Confront His Demons
Jimmy Holiday, exorcist extraordinaire, is about to embark on his most unusual case yet—a baby that may be possessed by the demonic…or worse, a true demon spawn. The Order wants him to make sure it is a true case and not some hoax…or so they say.
Once Jimmy arrives, the situation changes into a living nightmare. The Order is not what he thought at all. And now, they demand he commit an unspeakable act. But Jimmy has enough scars of his own.
When the full truth of the corruption within the Order comes to light, Jimmy must act. With a voudou woman who lives down the lane as an ally, Jimmy must fight for the life of this supernatural child, but at what cost?
Where to Buy
Amazon US
Amazon UK
Amazon CA
More Reviews
Did you enjoy this review? Check out my other Amazon reviews here.