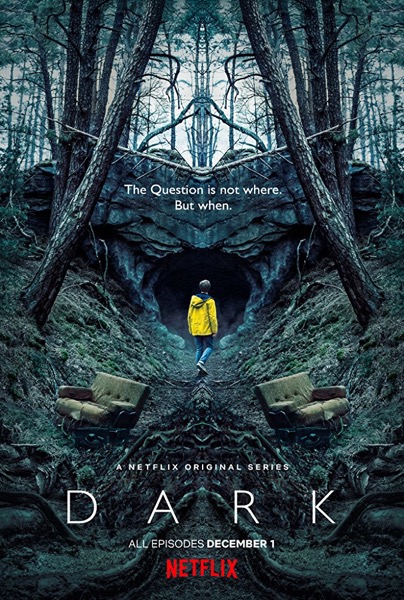 Recently, I finished watching the new Netflix series, 'Dark.' Prior to its availability, though, I was reading headlines like these: Dark Review: Netflix's German Answer To Stranger Things Is Appropriately Titled, And Far More Grim and Netflix's Dark: Stranger Things meets The Killing in this supernatural Nordic noir, and to be honest, it kind of pissed me off. To be fair, the articles in question did a pretty good job of distinguishing between the two shows, but why compare them at all? Frankly, they have little to do with each other. Sure, both feature a forbidding forest and missing children. But where 'Stranger Things' is a mashup of 'ET,' 'Stand By Me,' and 'Super-8,' 'Dark' is a brooding meditation on Chernobyl, fate, and time travel.
So, what happens when you go with these kinds of attention-grabbing headlines? In my opinion, you create wrong expectations in the viewer's mind. You know about expectations, right? Like when you sit down with your kids to watch the new Pixar movie, 'Coco,' at the local cinema and are greeted with a nearly thirty-minute short about some stupid buck-tooth snowman named Olaf. Yeah. Well, the press was bad. I think I heard there were riots in Mexico.
If by now you're thinking of giving the show a try, let me offer a piece of advice. Switch the dialogue to German and add the English subtitles. I know, I know. Most people hate subtitles. But you will be in for a treat. Hearing the actors' real voices as they navigate through this hell-on-earth is worth it and adds wonderfully to the tension. Trust me on this. Also, pay attention to the music. It's spot-on.
I've found over the years that European storytelling is different from that of America. Europeans like to take their time letting things unfold. They're more philosophical. They don't shout, but rather speak in low, measured tones that convey an intensity that acts as a window into a person's darkest secrets. And they like to minimalize the backstory, so you end up having to work hard to get to the bottom of a character rather than listening to some rube monologuing about what made them the way they are. Or worse, smarmy narration that attempts to put a bow on it all.
I will admit 'Dark' is not for everyone. But if you want to explore something different, give it a try. Why, you may even be tempted to get a taste of Nordic Noir a la 'The Keeper of Lost Causes.' And don't get me wrong. I loved 'Stranger Things'—well, the first season, anyway. All I'm saying is, 'Dark' truly stands on its own. It doesn't need help from some other successful American series.