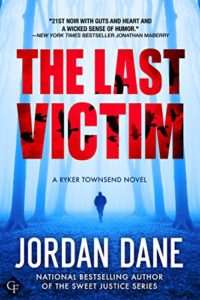 So, I'm swearing off Alaskan king crab and Baked Alaska now. In fact, I will most likely never take that Alaskan summer cruise I was planning. Why? Because I read
The Last Victim
. More specifically, I allowed Jordan Dane's mad tale to get under my skin and into my nightmares. Yeah, really.
This is some seriously good writing. The author has presented a well-researched, imaginative story about an FBI profiler with a big problem—he can connect with the dead. Oh, great. I'll bet he's fun at parties. I mean, this guy's got more baggage than a luggage cart at the Ritz Carlton. The book is well crafted and haunting in its ability to pull you into the mind of a serial killer and the hunter who is in pursuit. And, believe it or not, there's still room for a little humor—gallows humor, maybe. But hey.
If you're drawn to the gruesome while still demanding good plotting, believable characters, and plot twists coming at you at a breathtaking pace, then I suggest you pick up this novel. You won't be sorry. But, like me, you might be hesitant to visit our forty-ninth state anytime soon.
You can find this review at Amazon US.
Book Description
When a young hunting guide from a remote island in Alaska is found brutally murdered, his naked body is discovered in the Cascade Mountains outside Seattle—the shocking pinnacle to a grisly Totem of body parts. Nathan Applewhite is the fourteenth victim of a cunning serial killer who targets and stalks young men.
With the body count escalating, FBI profiler Ryker Townsend and his specialized team investigate the gruesome crime scene. They find no reason for Nate to have mysteriously vanished from his isolated home in Alaska before he ended up in the hands of a sadist, who has been taunting Ryker and his team in a sinister game of 'catch me if you can.'
But Townsend has a secret he won't share with anyone—not even his own team—that sets him on the trail of a ruthless psychopath, alone. The intuitive FBI profiler is plagued by recurring nightmares—seen through Nate's dead eyes—that slowly chips away at his mental stability. Is he burning out and losing his mind—becoming unfit for duty—or is the last victim reaching out to him from the grave?
Townsend sees horrific flashes of memory, imprinted on the retinas of a dead man, the last image Applewhite saw when he died. Ryker must piece together the fragments. Each nightmarish clue brings him closer to a killer who knows how to hide in plain sight and will see him coming, but when the dead man has the skills of a hunting guide, he has the perfect ally to track down a killer—the last victim.
Where to Buy
Amazon US
Amazon UK
Amazon CA
More Reviews
Did you enjoy this review? Check out my other Amazon reviews here.