Greetings. Wow, it's May already and time to celebrate. Cinco de Mayo, sure. But I'm talking about Mother's Day, people. Here's a photo of my family from a lifetime ago. The little guy is my brother.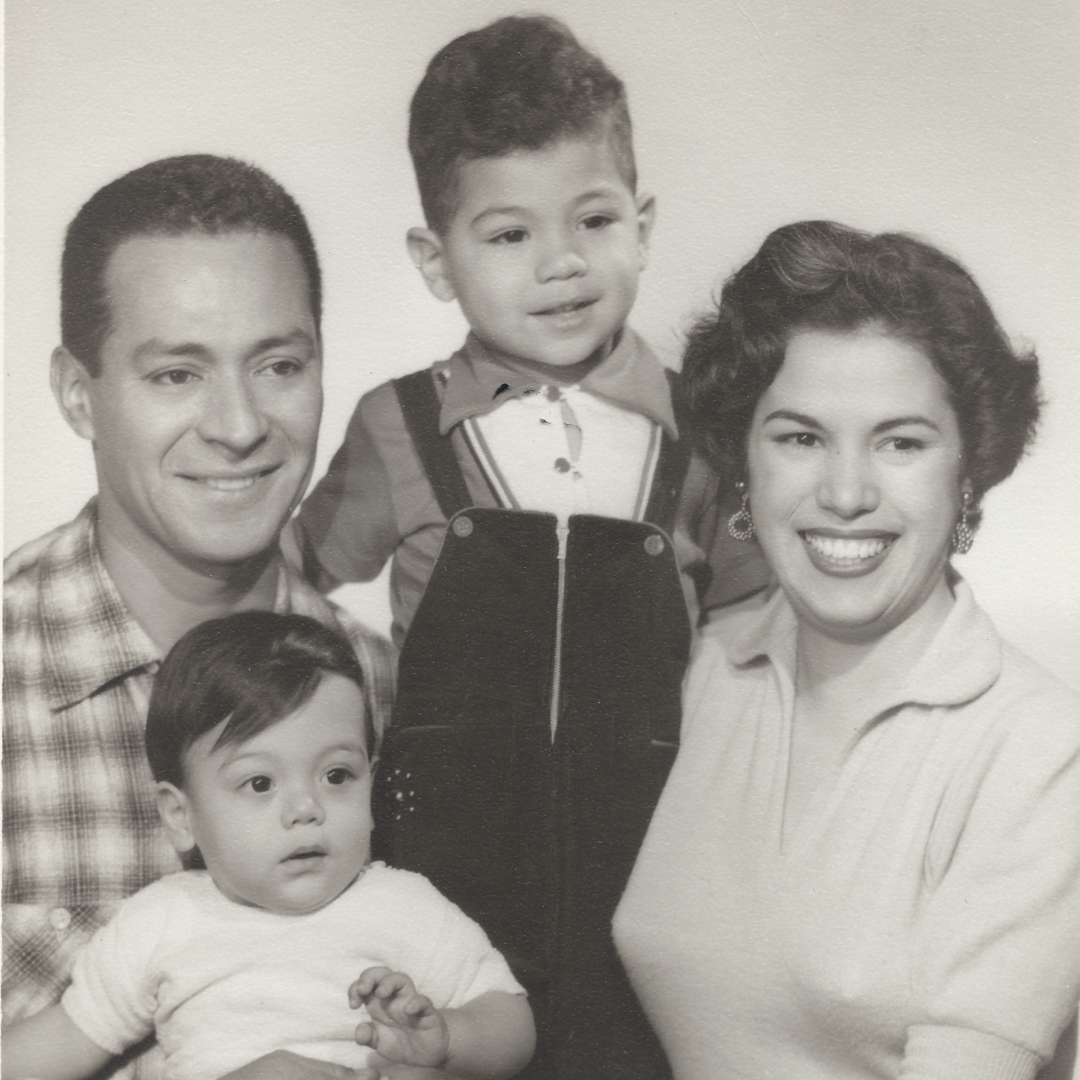 I'd like to share a quick story about my mom. She worked full time, driving to work from a sleepy suburb to LA. Back then, freeways weren't all that great, and traffic was always a mess.
There was a jazz concert I really wanted to go to, but it was on a weeknight. My father worked nights, and my mother volunteered to drive quite a long distance just so my brother, his friend, and I could attend the concert. Why? Because that's what mothers do. Thanks, Mom.
Recommended Reading
Recently, I reviewed The Devil's Whispers by Lucas Hault. Fans of good old-fashioned gothic horror should check out this novel. And if you thought vampires were rough, wait until you get a load of what's waiting for you at Mathers Castle. You can read the review here.
Book Description
In a silent, sleepy castle, evil has awakened…
Famed British lawyer Gerard Woodward is summoned to an ancient Welsh castle to assist a dying lord in his final affairs. But as his host slips closer to death, Gerard begins to feel less like a guest and more like a prisoner. When he finds himself locked inside his room, he realizes he must escape.
After finding his way out of his room, Gerard begins to wonder if he was safer locked inside. The labyrinthine halls echo secrets. A terrible wail and the rattling of chains sets his nerves on end. Something sinister is happening within the walls of Mathers Castle, and when he descends into the dungeons, he discovers a horrible secret…
In nearby London, children vanish into the night, animals are horribly mutilated, and a savage creature stalks the shadows. When Gerard's wife, Raelyn, becomes the creature's next target, his need to escape reaches a fever pitch. He must get out alive so he can dispel the evil that threatens to destroy his beloved Raelyn… and the rest of us.
Fans of epistolary Gothic horror classics like Dracula, Frankenstein, and The Picture of Dorian Gray will devour The Devil's Whispers.
Where to Buy
Amazon
Barnes & Noble
Books-A-Million
And then, there's revenge. Dr. Vigilante is a taut medical thriller—sharp as a scalpel—that will leave you breathless. All I can say is, watch out, bad guys. Check out my review here.
Book Description
Doctor by day.
Vigilante by night.
Robert lives a double life in New York City. He spends his days treating patients at the St. Jude's Hospital ER and his nights going after the psychopaths who wrong them: the child molesters, wife beaters, and rapists. But when the fiery, beautiful new social worker discovers his secret identity and their love affair takes off, Robert is forced to face some hard questions:
Do the ends justify the means?
After years of hunting down psychopaths, is Robert turning into one himself?
An action thriller with strong, distinct characters, filled with suspense and surprise, Dr. Vigilante is also a love story unfolding amid the turmoil and drama of a busy ER.
Where to Buy
Books to Enjoy
A cold town reeks with deaths and mysteries, and there are shadows at every turn. In the wake of the unearthing of age-long secrets, private investigator Marcus Lynette launches against the darkness clouding Deadwood. Check out Deadwood's Hotel Mystery by Peyton Dinwiddie.
One dead body… One mysterious sign… And a case that's stumped every detective who's looked at it … Payne's Disclosure by Audrey Walker is a page-turner you won't want to put down.
---
Okay, that's a wrap. See you next month when I try to slip in a backhanded compliment for National Say Something Nice Day. Peace and love.