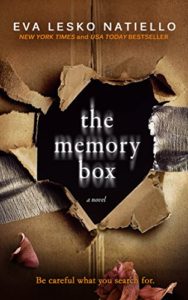 This is the story of a madwoman—an unreliable narrator par excellence who creates more twists and turns than a plate of linguine. All the while, I was laughing my ass off at the wry observations of stilted suburban life, and the hilarious inner dialogue comebacks directed at the parade of boobs and morons who actually had the temerity to get in the way.
Am I exaggerating? Possibly. But I can't help it. Eva Lesko Natiello has given us a story that defies logic—and worse, sends you halfway to the looney bin as you try to sort through the protagonist's anxiety-ridden bitch of a day-after-day. Halfway through, you almost wish Caroline would just pop and be done with it so you could get half a breath, for crying out loud.
All I can say is, read The Memory Box at your own peril. But first, make sure you've got a stiff drink close by. And a pillow to scream into. You're probably going to need them.
You can find this review at Amazon US.
Book Description
NEW YORK TIMES and USA TODAY Bestseller
A psychological thriller page-turner with twists and turns until the very last page.
WHAT IF YOU GOOGLED YOURSELF & DISCOVERED SOMETHING SHOCKING?
In this gripping psychological thriller, Caroline Thompson Googles herself and discovers the shocking details of a past she doesn't remember.
A HOUSTON WRITERS GUILD MANUSCRIPT AWARD WINNER
A fast-paced suspense where a group of privileged suburban moms amuses themselves by Googling everyone in town, digging up dirt to fuel thorny gossip. Caroline Thompson, devoted mother of two, sticks to the moral high ground and attempts to avoid these women. She's relieved to hear her name appears only three times, citing her philanthropy. Despite being grateful that she has nothing to hide, a delayed pang of insecurity prods Caroline to Google her maiden name–which none of the others know.
The hits cascade like a tsunami. Caroline's terrified by what she reads. An obituary for her sister, JD? That's absurd. With every click, the revelations grow more alarming. They can't be right. She'd know. Caroline is hurled into a state of paranoia–upending her blissful family life–desperate to prove these allegations false before someone discovers they're true.
The disturbing underpinnings of The Memory Box expose a story of deceit, misconceptions, and an obsession for control. With its twists, taut pacing, and psychological tenor, Natiello's page turning suspense cautions:
Be careful what you search for.
Where to Buy
Amazon US
Amazon UK
Amazon CA
More Reviews
Did you enjoy this review? Check out my other Amazon reviews here.