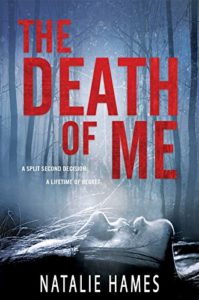 I really liked this novel, but I have to be honest. DC Philip Harris drove me crazy. And maybe that's the point. Take a guy who, let's face it, is not the shiniest penny in the jar and throw every kind of roadblock in his path as he attempts to salvage what's left of his career, and what do you have? Pure Grade A frustration, my friend. I mean, there were times when I wanted to scream at the guy to just grow a set. Then again, I was deeply impressed by his analytical skills and dogged determination, if not his wussy approach to those who taunt him—and there are plenty.
At this point, you're probably wondering why I am recommending this book. Simple. Because it's so bloody well written. The fact that another author can make this author seethe with anger each time the stakes are raised is something I admire. Also, the writing is taut and the characters well developed. My only criticism is that Phil's Catholic backstory could use some work. But hey, that's me.
If you like dark characters, conspiracy, and political intrigue—not to mention a couple of nasty abductions—then you should read The Death Of Me. You won't be disappointed.
You can find this review at Amazon US.
Book Description
He watched. He studied. He planned.
Every detail meticulously organised. Every detail perfect. The basement was ready, now all he needed was the girl.
Grace Dalton was just fourteen years old when she was snatched from Greenwich Park on her way back from school. A beautiful, shy, but socially awkward girl, she would do anything to stay out of trouble and away from her bullies. Pressed for time and her tormentors blocking her usual route home, she makes a split second decision with catastrophic consequences.
After facing public humiliation from a previous investigation, Detective Constable Philip Harris once again finds himself under savage media scrutiny when he's assigned to Grace's case. Determined to find her and solve the case to gain back his credibility, his frustrations mount when he repeatedly finds himself hampered at every turn. With no other suspects and the case rapidly becoming cold, the finger of blame points to Tom, Grace's father. Struggling to keep his personal resentment towards Tom away from the case and the press, DC Harris embarks on his own investigations to find who the real kidnapper is against the instructions from his superior officers. But when his digging leads him to a mysterious concealed road protected by impenetrable iron gates he soon realises his investigations have not only endangered himself, but also his family.
Pitched alone against a highly organised crime syndicate and not knowing which side his colleagues are on, he's faced with some tough decisions. Either drop Grace's case, declaring it cold and allowing Tom to take the fall, or embark on a highly dangerous quest for her safe return. Time's running out, which will he choose?
Where to Buy
Amazon US
Amazon UK
Amazon CA
More Reviews
Did you enjoy this review? Check out my other Amazon reviews here.