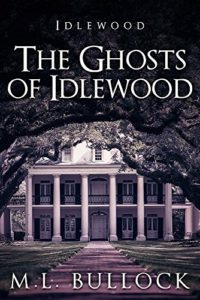 When I'm not reading horror, I like immersing myself in a good ghost story. The thing about this sub-genre is, you can pretty much do what you want anywhere you want. I love learning about different parts of the country.
The Ghosts of Idlewood
paints a realistic picture of the modern South. And in reaching back to centuries past, it provides the reader with a rich tapestry of what life might have been like on a plantation.
If, like me, you haven't been steeped in the author's Seven Sisters series, don't worry. This story works well as a standalone, and I had no trouble picking up on the backstories of the main characters as they face paranormal danger in trying to solve the mystery that lies within the walls of a once-grand estate called Idlewood.
You can find this review at Amazon US.
Book Description
Carrie Jo Begins a New Renovation at Idlewood!
The Seven Sisters Spin-Off You've Been Waiting For!
When a team of historians takes on the task of restoring the Idlewood plantation to its former glory, they discover there's more to the moldering old home than meets the eye. The long-dead Ferguson children don't seem to know they're dead. A mysterious clock, a devilish fog and the Shadow Man add to the supernatural tension that begins to build in the house. Lead historian Carrie Jo Stuart and her assistant Rachel must use their special abilities to get to the bottom of the many mysteries that the house holds.
Detra Ann and Henri get a reality check, of the supernatural kind, and Deidre Jardine finally comes face to face with the past.
Where to Buy
Amazon US
Amazon UK
Amazon CA
More Reviews
Did you enjoy this review? Check out my other Amazon reviews here.