For me, reading this novel was like experiencing a dream. I alternated between curiosity, frustration, and elation. Curiosity, because I am unfamiliar with Korean culture; frustration, because as the reader, I could do nothing but witness Lloyd's descent into madness without ever actually understanding his mind; elation, because despite her troubled childhood, Yoona has a chance to be happy.
This is what good writing does—it stretches you until you can hear your muscles tearing. I'll be honest. At first, I was a little put off by the short passages that seemed more like journal entries than chapters. But as I followed Yoona in her attempt to come to terms with her current predicament—being held hostage by a former friend—I discovered a history I had little knowledge of. And I also learned of the pain immigrants can feel when trying to assimilate in this purported land of opportunity.
A Small Revolution is powerful. And, like a dream, every reader is bound to experience it differently.
You can find this review at Amazon US.
Book Blurb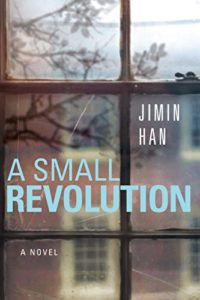 In this powerful, page-turning debut, Jimin Han deftly shows that revolutions—whether big or small, in the world or of the heart—can have an impact that lasts through time and spans the oceans.
On a beautiful Pennsylvania fall morning, a gunman holds college freshman Yoona Lee and three of her classmates hostage in the claustrophobic confines of their dorm room. The desperate man with his finger on the trigger—Yoona's onetime friend, Lloyd Kang—is unraveling after a mysterious accident in Korea killed his closest friend, Jaesung, who was also the love of Yoona's life.
As the tense standoff unfolds, Yoona is forced to revisit her past, from growing up in an abusive household to the upheaval in her ancestral homeland to unwittingly falling in love. She must also confront the truth about what happened to Jaesung on that tragic day, even as her own fate hangs in the balance.
Through scenes of political upheaval and protests in South Korea, spirited conversations in cramped dumpling houses, and the quiet moments that happen when two people fall in love, A Small Revolution is a moving narrative brimming with longing, love, fear, and—ultimately—hope.
Where to Buy
Amazon US
Amazon UK
Amazon CA
More Reviews
Did you enjoy this review? Check out my other Amazon reviews here.