It's not often I say this, but Little White Lies by Elizabeth McGregor blew me away. What starts out as a sad, curious mystery festers like sepsis, driving you to high fever and delirium until what you are left with is shock and a sickening truth that speaks to the worst human frailties. All through the book, the author is both careful and relentless. Her writing is unfailingly English, and she doesn't brook impatience. You must wait for the revelation. And, dear Lord, when it comes you almost wish it hadn't.
By nature, I am an impatient person. And, for better or worse, my writing reflects that. But in this brilliant novel, McGregor has taught me that sometimes it's better to breathe and let the pain wash over you like a rinsing agent mixed with blood. Beth March never had a clue that a dead bird would lead to such misery—not just hers—and when she accepts the reality that has always surrounded her, it's as if she is acknowledging not just one but many deaths.
Don't go looking for heroes in Little White Lies—they don't exist. Some, however, do act heroically at times, including Beth. There is no doubt I will read this book again. But I'll have to wait until the fever subsides. In the meantime, I'm going in search of the 1998 TV movie version, which was produced by the BBC and co-written by the novel's author.
You can find this review at Amazon US.
Book Description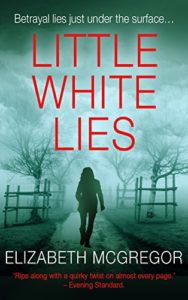 Any other year, summer arrived with the swallows. But this year, the broken body of a bird, left on the porch, serves as an omen of deception, a shadow cast over the days to come…
Beth March's life seems unexceptional: she and her husband, David, have a conventional, quiet marriage.
The opening morning of the nightmare seems like just another day, aside from the unexpected body of the bird…but while Beth showers and prepares for the day, David drives his car at full speed into the path of a lorry. He is killed instantly.
From the moment that Beth learns of his fate, her world begins to shatter around her. Nothing in her life can ever be the same again.
No one can be trusted. No one is telling her the truth.
Was David having an affair?
Why did he go behind her back to sell his shares and take out another mortgage — and where is that money now?
What dark secrets lie beneath the picture-perfect image of the family down the lane?
As she unravels the chain of tragic events that preceded her husband's death, Beth finds herself tossed from side to side on a sea of continually shifting information, never sure what is true and what is not.
What seem like little white lies gradually begin to build and build until Beth truly begins to realise the horror of devastating betrayal experienced by everyone involved…
Little White Lies is an intriguing tale of suspicion, deceit and the quest for the truth.
Where to Buy
Amazon US
Amazon UK
Amazon CA
More Reviews
Did you enjoy this review? Check out my other Amazon reviews here.