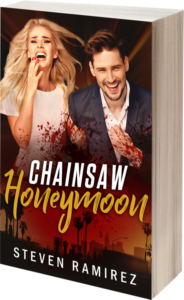 Wow, it's May already and life is beautiful! Just take a look at this lovely tweet from my friend David Latt, one of the folks responsible for 'Sharknado':
Wow! #ChainsawHoneymoon is from the writer of #Killers – the second film I directed 20+ years ago! What a nice surprise to see this on my desk today. It's great to see old friends do well. Can't wait to read your latest book @byStevenRamirez ! pic.twitter.com/Hhy0jwiSk6

— David Michael Latt (@DavidMLatt) March 13, 2018
Pretty exciting, right? Well, here is some more good news. You can pick up your free Kindle version of Chainsaw Honeymoon now through May 18th. If you like romantic comedy on the hysterical side, then don't wait another second.
Take a look at what IndieReader had to say about my latest novel:
"In this tale of a daughter literally trying to scare her estranged parents back together, Steven Ramirez combines the horror/slasher film and literature genres with the light comedy/romance of a Cary Grant film. Both genres present challenges on their own. What is amazing about Chainsaw Honeymoon is how Ramirez surmounts both of these demands. Added to these accomplishments is his ability to present the viewpoint of a fourteen-year-old girl. In the form of Ruby, Ramirez imparts to readers all the confusion brought about by puberty; the emotional neediness camouflaged by sarcasm; the obsession and continuing frustration with boys; and the bonds female teenagers forge with one another.†— IndieReader
Thank you again for your support. Peace and love.