Exciting news! The publication date is nearing for my new horror collection Come As You Are. To celebrate, I am giving away ten signed copies of my book. The giveaway starts tomorrow, August 22nd, and runs through September 20th.
All you need to do is click the link below to enter. Winners will be selected by the folks at Goodreads at the end of the contest. Note that you must be a US resident. Best of luck!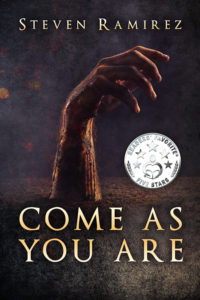 Come As You Are
by Steven Ramirez
Release date: Sep 07, 2017
Enter for a chance to win one of ten signed copies of Come As You Are by Steven Ramirez.
"Ivan's innocent and unwitting flirtation with the demonic is first-rate supernatural horror. Ramirez's characters are beautifully defined, particularly Ivan and Hershey, the school janitor, who turns out to be much more than that. His plot is beautifully scripted and the suspense and supernatural dread emanating throughout this story make it impossible to put down until the last page is read.†—Readers' Favorite
Opens for entries on August 22, 2017
Format: Print book
Availability: 10 copies available
Giveaway dates: Aug 22 – Sep 20, 2017
Countries available: US