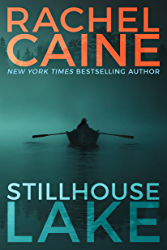 Let me start out by saying that Rachel Caine is an excellent writer. Her prose is concise, controlled, and chillingly violent when the occasion calls for it. This is the first book of hers I've read, and I enjoyed it immensely. I especially liked her protagonist, Gina Royal, who is single-minded in her determination to protect her children and herself from the memory of her soulless ex-husband and the thousands of trolls now pursuing the family on social media. Quite a challenge for a former housewife whose main concerns used to be centered around seeing her children off to school and putting dinner on the table.
If you like tense thrillers, I can say with confidence that you will enjoy Stillhouse Lake—with one caveat. For me, when someone says "serial killer,†I expect a high body count. I mean, that's kind of what they do, right? And though Gina's ex-husband, Mel, does live up to his reputation, most of it is in backstory. In fact, Caine spends most of the first half of the book on Gina's inner life. By the time we get to the new peril she finds herself in, we know her intimately—a good thing if you enjoy believable characters. I only wish the author had peppered the introspection with a bit more action, that's all I'm saying.
All in all, a terrific read. Can't wait for the next book in the series.
You can find this review at Amazon US.
Book Description
Gina Royal is the definition of average—a shy Midwestern housewife with a happy marriage and two adorable children. But when a car accident reveals her husband's secret life as a serial killer, she must remake herself as Gwen Proctor—the ultimate warrior mom.
With her ex now in prison, Gwen has finally found refuge in a new home on remote Stillhouse Lake. Though still the target of stalkers and Internet trolls who think she had something to do with her husband's crimes, Gwen dares to think her kids can finally grow up in peace.
But just when she's starting to feel at ease in her new identity, a body turns up in the lake—and threatening letters start arriving from an all-too-familiar address. Gwen Proctor must keep friends close and enemies at bay to avoid being exposed—or watch her kids fall victim to a killer who takes pleasure in tormenting her. One thing is certain: she's learned how to fight evil. And she'll never stop.
Where to Buy
Amazon US
Amazon UK
Amazon CA
More Reviews
Did you enjoy this review? Check out my other Amazon reviews here.